Discover more from 🤷🏽‍♂️Not My Problem
Uncovering stories of startups across the world that wouldn't have been founded if the founders had shrugged off these problems as someone else's
Over 2,000 subscribers
A National Holiday for Planting Trees
Could this BE the most ambitious tree-planting initiative ever?
Today's eco snapshot👇🏽
Kenyans get rooted: A national holiday for planting trees

Startup of the week: rhinopaq

5 brands that sustainably stand out

Some good news from around the world

3 ways I can help you on your sustainability journey
---
🌱 A national holiday for planting trees
The Kenyan government has granted a special holiday for Kenyans to plant 100 million trees as part of their goal to plant 15 billion trees within 10 years.
Each Kenyan is encouraged to plant at least two seedlings.
This initiative aims to combat climate change by using trees to absorb carbon dioxide and release oxygen.
The government is providing approximately 150 million seedlings for free in public nurseries and also encourages citizens to purchase additional seedlings.
The tree-planting activities will be monitored through the Jaza Miti app, which allows individuals and organizations to record their planting activities.
There have been around two million registrations on the app.
What do you think about an initiative like this?
---
Time for the quiz of the week ⌛
Answer at the end of the newsletter. No one (including me) can see your response so feel free to vote 😉
---
✨ 
Startup of the week:
rhinopaq
Boxed out…Every year, 3 billion trees are cut down for paper packaging, with cardboard boxes being the majority of contributors. This extensive deforestation is having a significant impact on forests. A German startup called rhinopaq is tackling this issue.
rhinopaq's loop…Instead of cardboard boxes, rhinopaq uses reusable polypropylene (PP) shipping boxes. These boxes can be used for 20 times. After that, they are broken down to make new ones. Although their initial production emissions are higher than cardboard boxes (~ 2.5X of a cardboard box), the overall emissions are lower than cardboard boxes, since these can be reused multiple times. This is how they work:
📦 Businesses send their goods to customers in rhinopaq instead of carton boxes.
📦 After receiving and removing the goods, customers fold the rhinopaq and put it into the nearest mailbox.
📦 rhinopaq receives them, processes them, and then uses them for another shipment.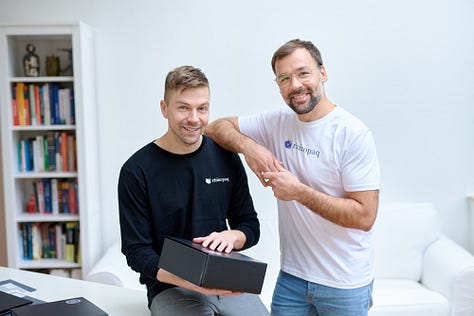 Scan green…There's also a QR code inside the box that tells customers how many cycles a package has seen and what brands have used it in the past. This is a great way to discover sustainable brands while reducing the stress on the planet.
---
✅ Brands that sustainably stand out
🇨🇦 Everly Candles: a candle refill system where you can use an existing jar
🇳🇱 Mud Jeans: lease your jeans for a small monthly fee
🇮🇳 Saathi Pads: biodegradable menstrual pads made from banana and bamboo fiber
🇸🇪 Ekolution- bringing a green construction revolution using hemp
🇺🇸 Leaf Shave- planet-friendly alternative to disposable plastic razors
Engage with hundreds of sustainable brands like these by upgrading to a paid subscription. It comes with access to a database of planet-friendly brands from across the world.
---
😹 Some Good News
🐠 Countries Pledge $12 Billion to Protect Coral Reefs
An alliance of nations has made a significant commitment to raising $12 billion to safeguard coral reefs from pollution and overfishing. This funding will play a vital role in the conservation and restoration of these critical ecosystems, which support a quarter of the world's marine species and over a billion people.
🐺 Gray Wolf Spotted in California National Monument After 100 Years!
For the first time in over a century, a gray wolf has been sighted in the Giant Sequoia National Monument. The female wolf, along with her four offspring, represents the return of these near-extinct animals to the area
⚽ French Football Teams Score a Green Goal!
In a bid to reduce carbon emissions, French football teams have implemented a new travel policy. They will now travel to matches within a three-hour radius by train instead of plane.
---
🌎 3 ways I can help you
📞 Interested in chatting about sustainability and climate change? Book a free call here
✍🏼 Want to be featured in this newsletter and a LinkedIn post? Submit your story
💁🏼 If you're a planet-friendly brand, I can help you with your blogs, newsletters, case studies, and whitepapers
---
Click that 💚 if this added some value to you.
I am taking a break from the newsletter next week. Have a great weekend and see you in December😊