This story landed in my inbox 2 days ago
And I am so grateful for it!
Milind Shah from Kolkata, India messaged me 2 days ago and told me about what he's building at Gauraa.
I modified the contents of the mail slightly so that it fits well here. Here's what he had sent-
***
The Problem
A lot of wastage happens in the FMCG sector due to surplus production and stock mismanagement. Goods that are close to their expiry date or have minor faults such as a dented body or a soiled sticker are rejected by retailers.
Despite being perfectly suitable for use, these products fail to make it to the market & ultimately end up in a landfill.
With that, everything from sowing a seed to the product landing on the shelf goes down in vain.
A total waste of resources and unnecessary emissions!
As an FMCG distributor in Kolkata, India, we supply consumer goods of popular FMCG brands to all modern trade and e-commerce retailers. This also exposes us to the huge volume of damage and expiry stock returned by these retailers.

Also, all these retailers have strict norms on the minimum shelf life of any product they are buying. It is mostly 50% for non-food and 60% for food products.

Any product that has a shelf life below this, is rejected by them. Further, any product having any cosmetic fault like a dented body or a soiled sticker is also rejected. All these products never reach the market and ultimately get expired and hence wasted.
Their Solution
Being a witness to this heartbreaking wastage inspired us to come up with an online platform called Gauraa.
It offers products which are near to expiry(short-dated) or has minor faults but are still perfectly fit for use, at a discounted rate.
Along with reducing the wastage of such products, it also fulfils consumer's requirements & thus avoids the need for a new product. Not to mention the cost saving for consumers and loss recovery for businesses.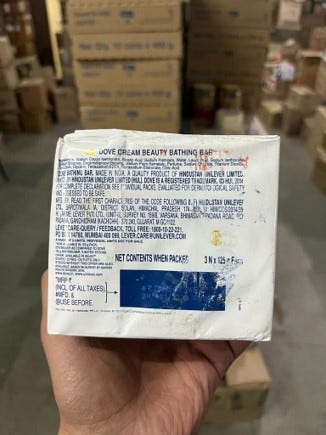 We are currently operating in Kolkata since Oct'22 and seeing a healthy response from consumers. In a short span of 3 months, we have sold over 1500 units of stock with less than 20% shelf life.
Prabhuji Haldiram, a leading confectionery brand, showed interest and is on board with us. Recently we helped them liquidate 200 units of packed sweets with only 30% shelf life. This had been denied by any other retailer. People are resonating with our idea of reducing waste while saving big.
We also offer an option to donate these products directly to verified charities as per their requirement. The charities are informed in advance about these products and are supplied only after their approval.
This way, we are able to bridge the gap between wastage and deprivation.
***
What a beautiful solution! ❤️ I am so grateful that Milind took out the time and shared this with me.
I love these stories and I am so glad people are sharing them with me. I am sure all of us are doing something in our homes, offices, and residential buildings to make this planet better.
It doesn't matter if you think they are small and inconsequent. Trust me, they would be an inspiration for someone.
You can send those to me in the form of a voice note or write to me by replying to this email.
I would love to cover them in this section.❤️ We got this!
---
Moving onto this week's content. So today, we have👇🏽
A startup that's making cocoa-free chocolates

Another startup that's taking care of the metals scraps at your home

A great opportunity for freelancers in the sustainability space

Some good news
---
World's first cocoa-free chocolate
The dark side of chocolate…Who doesn't love chocolate? It's delicious, uplifts your mood and is eaten on most occasions. Did you know most of the chocolate comes from 2 countries in West Africa- Ghana and Cote d'Ivoire? They are the primary growers of cocoa, the main ingredient of chocolates. Large tracts of land are cleared to grow cocoa. In the last 60 years, Ghana has lost 80% of its forest cover; Cote d'Ivoire 94%. The chocolate industry is unfortunately also filled with social issues like child and slave labour and unfair wages.
Cocoa-Free Revolution…London-based WNWN (pronounced as win-win) wants to change this through its "alt chocolate" which is cocoa free. Instead, it is made using commonly found ingredients like legumes, cereals and other plant-based ingredients. It uses a proprietary process of traditional fermentation techniques to manufacture these chocolates.
This converts sustainable ingredients like British barley into premium cocoa-free chocolate.

It looks, smells, tastes and melts like cocoa chocolate and produces 80% less carbon than them.

It's also dairy-free, palm oil-free, caffeine-free and gluten-free.
Ethical expansion…WNWN released two cocoa-free chocolate products to check the market and they got sold out immediately. They also supply high-end restaurants and gift companies with their ingredients and products. Apart from chocolate, they want to expand to other products like coffee, tea and vanilla that have unsustainable and unethical supply chains.
---
Revolutionizing the status quo in recycling
Metal Recycling Dilemma… What do you do with your old tools, screws, pots or pans? Or rods, pipes and corrugated iron. They cannot be recycled traditionally. And they have a lot of materials that are mined from the planet. These materials can be reused, preventing further depletion of the planet's resources. At a larger scale, metal producers and larger raw material traders also face the same problem. There are no convenient and transparent recycling solutions for smaller amounts of metal scrap.
A mobile scrapyard…German startup Scrapbees (Schrottbienen in German) is solving this for households and businesses. They offer a pick-up service for recycling scrap metal from commercial enterprises and private households. They take out the scrap, weigh it with calibrated scales, sort them by type and take them to the appropriate disposal company. If the items can be reused, you can also get paid for calling Scrapbees.
They accept all types of metal scraps-from old rods and pipes to radiators and garage doors.

From making an appointment to professional disposal - they digitally document everything, which increases transparency.

Customers can track how useful metals from their returned goods have been reused in the economy.
Scrap Success Spreads…In 2022, the company has already generated a turnover of almost € 1M. They currently serve the Ruhr region, Hamburg, Stuttgart, Mannheim, Nuremberg and Frankfurt am Main in Germany. They have a fleet of more than 20 vehicles that collect scrap metal from households, craftsmen and businesses.
---
Sponsored
Some of you might know already that I'm a freelance writer for brands in the sustainability and impact space.
I write newsletters, blogs and whitepapers for them.
I always felt that there should be a dedicated platform that connects brands in the impact space with sustainability-focused freelancers. And then a few weeks ago, I discovered Leafr.
It helps impactful brands hire vetted sustainability freelancers.
Having gone through it, I can vouch for their comprehensive vetting process.
Brands can use short projects to assess Leafr's highly selective pool of candidates before making an offer. They don't have to pay an upfront fee to Leafr.
For freelancers, it's completely free and they can decide their rates and hours.
If you'd like to promote your business to 1000+ people, feel free to reply to this email. Won't burn a hole in your pocket, that's a promise 💚
---
😹 Some Good News
🐘 Poachers Beware: Dutch company pioneers high-tech solution to catch poachers red-handed
🏠 Grass is Greener: US startup's sustainable building materials root out carbon emissions!
💵 Water you waiting for? 92-year-old helps save 200,000 litres of water and cut electricity bills in half
Shoutout to

Aakanksha

for making this punny
---
🔦 I would love to cover your story
If you're a brand that has planet Earth as a stakeholder, here are a few ways in which I can help you-
Cover your story in the newsletter and in a LinkedIn post. It's completely FREE!

Help you with your long-form content- newsletters, blogs and articles
Thanks for reading today's edition. If you have any thoughts or questions, feel free to write to me by replying to this email.
Have a great weekend and see you next week😊